Welcome
Thank you for taking the time to visit my web site!
Here are a few recent events and items to share:
Parental Leave: Over the past year, I have been working with two colleagues, Dr. Lindsey McKay and Dr. Sophie Mathieu, to bring attention to class inequalities in parental leave and to consult with unions, labour groups and the federal government on these issues. We also highlight the lack of attention to, and national data on, Indigenous Canadian families and their access to care policies. You can find some of our recent publications, presentations, Op Eds here on the Parental Leave section of this web site.
2.  Ecological Thinking:
Call for Abstracts for edited collection on the work of feminist philosopher Lorraine  Code: 
Lorraine Code: Thinking Responsibly, Thinking Ecologically (Preliminary Title)
Edited by Nancy Arden McHugh and Andrea Doucet
(Under Consideration with State University of New York Press)
In addition to co-editing this collection, in 2016 I  presented a series of papers on Code and her ecological thinking approach. These are being written up into chapters and articles, which are currently under review or in press. Some of these presentations include:
Ecological Thinking and Feminist Ethico-Onto-Epistemologies: Towards Decolonizing Epistemic Subjectivities and Knowledge/World Making", National Women's Studies Association Conference on Decoloniality, Montreal, Quebec, November 10-13.
"Ecological Thinking and Ethico-onto-epistemologies: Reconfiguring Knowledge Making, Subjectivities, Narratives and 'Vexed Questions' of Testimony", The Sixth Meeting of the Association for Feminist Epistemologies, Methodologies, Metaphysics, and Science Studies (FEMMSS), University of Notre Dame, Notre Dame, Indiana, October 2-4.
How might 'ecological thinking' inspire and inform critical qualitative research and narrative methods?" Invited presentation at the Center for Critical Qualitative Health Research, Speaker Series, the University of Toronto, January 29.
"Family Photographs and Ontological Narrativity: A Relational, Performative, and Ecological Approach", The International Sociological Association, ISA Visual Sociology Working Group (WG03), Austria, Vienna, July 10-14.
3. Finally, I'm pleased to share news from recent events, which I helped to bring to Brock University:
The 33rd Annual Qualitative Analysis Conference: Visual Methods and Visual Ethnographies was held at Brock University, May 11-13, 2016.
Three journals are currently in progress from this symposium and plans are in place for next year's conference at McMaster. More details soon.
October 15-16, 2015: I co-hosted (with postdoctoral fellows Robyn Lee, Lindsey McKay, and Alana Cattapan), the Consuming Intimacies Symposium at Brock University, which was funded by the Brock Social Justice Research Institute and Brock University internal research funds. We have just completed a special issue of Studies in Social Justice. You can find the special issue here: https://brock.scholarsportal.info/journals/SSJ/issue/view/88
To connect with me: andreadoucet@mac.com [or] adoucet@brocku.ca [or] @andreadoucet (Twitter).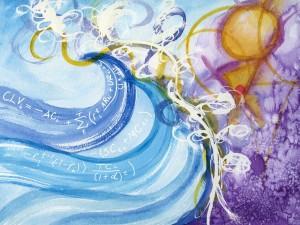 Painting by Christine Martell (When Science and Art Dance).