Welcome
Thank you for taking the time to visit my web site.
If you are a fellow faculty member with shared research interests, I look forward to connecting with you.
If you are a graduate or undergraduate student interested in learning more about my research, please don't hesitate to contact me.
If you applying for a postdoctoral fellowship and you have broad interests in care/work/consumption, gender and sexualities, parental leave, embodiment, new materialisms, visual methods, feminist research, or varied qualitative methodologies, do contact me to discuss the possibility of considering Brock University as a home for your post doctoral work. We have excellent facilities and space for postdoctoral fellows and a new Social Justice Research Institute that provides an exciting and collegial environment.
If you are a journalist, I am currently not doing media interviews as I am on sabbatical until January 2015.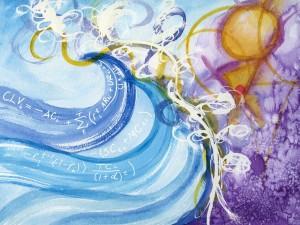 Painting by Christine Martell (When Science and Art Dance).