Welcome
Thank you for taking the time to visit my website. 
Here are a few recent events and publications: 
My recent publications (sole and co-authored) focus on a range of themes and interventions – theoretical, methodological, epistemological, ontological, ethical, and empirical – about fathering, parental leave policies, Indigenous employment experiences, and knowledge making practices. My most recent pieces touch on themes of:

(1) reflections and recommendations on parental leave redesign in COVID-19 Canada; 

(2) national (provincial) inequalities in receipt of parental leave benefits in Canada; (3) measurement issues in assessing fathering, parental leave impacts and gender equality; (4) genealogies of concepts and re-thinking conceptual narratives of father involvement; and (5) issues of epistemic oppression, social knowing and the importance of Indigenous resources in supporting Indigenous employment.
Doucet, A., Mathieu, S., and McKay, L.  (online first August 2020, in press, October 2020) Reconceptualizing Parental Leave Benefits in COVID-19 Canada: From Employment Policy to Care and Social Protection Policy. Canadian Public Policy.  https://www.utpjournals.press/doi/abs/10.3138/cpp.2020-091
Mathieu, S. McKay, L. and Doucet, A. (2020). Parental Leave and Intra-Regime Differences in a Liberal Country: The Case of Four Canadian Provinces. Canadian Journal of Sociology, 45(2), 169-194.
Doucet, A. and McKay, L. (2020). Fathering, parental leave, impacts, and gender equality: What/how are we measuring? International Journal of Sociology and Social Policy, 40(5/6), pp. 441-463.
Doucet, A. (2020). Father involvement, care, and breadwinning: Genealogies of concepts and revisioned conceptual narratives. Genealogy, 4(1), 1-17.https://www.mdpi.com/2313-5778/4/1/14
Jewel, E., Doucet, A., Falk, J., and Fyke, S. (in press, 2020). Social Knowing, Mental Health, and the Importance of Indigenous Resources: A Case Study of Indigenous Employment Engagement in Southwestern Ontario. Canadian Review of Social Policy (to be posted when published).
2. Special issue of the Journal of Sociology and Social Policy: We recently published (Summer 2020) a special issue on "Assessing and measuring the impacts of parental leave policies: intersectionality, policy entanglements, and conceptual and methodological complexities". Guest editors include myself, Dr. Ivana Dobrotic, Dr. Linda Haas, and Dr. Lindsey McKay. The contributing authors are: Peter Moss and Fred Deven; Andrea Doucet and Lindsey McKay; Elin Kvande and Berit Brandth; Ann-Zofie Duvander and Ida Viklund; Ivana Dobrotic and Nada Stropnik; Alexandre Fraga and Bila Sorj.
The downloadable articles are linked to each of the author(s) listed above.
This special issue focuses on the designs, implementations and impacts of parental leave policies and the conceptual and methodological complexities involved in assessing, measuring and theorizing those designs. Many countries are undergoing accelerated processes of neoliberalism and "financialized capitalism" (Fraser, 2016, p. 100), with social protections for workers weakening and precarious and nonstandard employment arrangements becoming increasingly common.  Consequently, there is an urgent need, now, at the beginning of a new decade, for wider, deeper and more nuanced thinking about how parental leave benefits help mitigate or acerbate social inequalities.
Each article in this special issue expands the contemporary debate on parental leave and gendered power and inequalities by engaging with intersectional analyses and exploring the methodological complexities of assessing and measuring progressive social change. The issue also aims to reimagine work/care policies that could lead to more equitable and just social worlds.
This special issue of the International Journal of Sociology and Social Policy forms part of ongoing efforts to widen and deepen robust international policy conversations and debates on a wide range of empirical, policy, theoretical, conceptual and methodological issues involved in designing, implementing and evaluating parental leave policies. We hope that this special issue generates more fruitful debate that could lead to positive outcomes for parents, children, families and communities. These debates will be even more urgent in a post-pandemic world.
3. SSHRC Partnership Grant Funding (2020-2027): I am delighted to share the news of our successful application. Our Steering Committee is hard at work to get this project up and running and we will launch in summer/autumn 2020. Please check back for regular updates and for a link to our project web site which is currently under construction.
Brock-led research team gets $2.5-million SSHRC grant to study policies impacting diverse Canadian families.  
4. International Network of Leave Policies and Research: I had the pleasure of co-organizing and presenting at the 15th annual International Seminar of the Network of Leave Policies and Research (LP&R) in Toronto, on July 13-14, 2018.  The Leave Policies and Research Network is a consortium of policy experts from 42 countries, whose members produce cutting-edge research on parental and other leave policies.https://www.leavenetwork.org/introducing-the-network/This was the first time the annual seminar has been held outside of Europe. The theme was "The Fit and Future of Parental Leave and Other Care Policies: Design, Equality, Impacts, Measurement". Toronto MP Adam Vaughan, Parliamentary Secretary to the Minister of Families, Children, and Social Development, provided the opening address.The seminar was co-hosted by Brock University and the University of Guelph and funded in part by the Social Sciences and Humanities Research Council of Canada (SSHRC).  Key topics addressed included:
Key speakers and presentations included:
5.  Ecological Thinking:
I am co-editor (with Nancy Arden McHugh) of a forthcoming collection on the work of feminist philosopher Lorraine  Code and the multiple and rich ways that her ecological thinking approach is being taken up in interdisciplinary ways in multiple research projects. The book is entitled Lorraine Code: Thinking Responsibly, Thinking Ecologically (State University of New York Press [SUNY], forthcoming 2021). 
6. Recent events:
I'm pleased to share news from events that I helped to bring to Brock University in 2015-2016:
To connect with me: andreadoucet@mac.com [or] adoucet@brocku.ca [or] @andreadoucet (Twitter).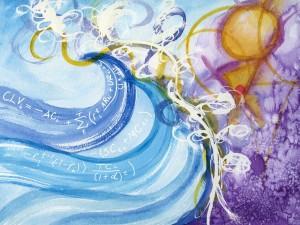 Painting by Christine Martell (When Science and Art Dance).