Welcome
Thank you for taking the time to visit my web site!
Here are a few recent events and items to share:
International Network of Leave Policies and Research: I had the pleasure of co-organizing, attending, and presenting at the 15th annual International Seminar of the Network of Leave Policies and Research, in Toronto, on July 13-14, 2018.  It was wonderful to attend a seminar with many colleagues from around the world. The Leave Policies and Research Network is a consortium of policy experts from 42 countries, whose members produce cutting-edge research on parental and other leave policies.https://www.leavenetwork.org/introducing-the-network/This was the first time the annual seminar has been held outside of Europe. The theme was "The Fit and Future of Parental Leave and Other Care Policies: Design, Equality, Impacts, Measurement". Toronto MP Adam Vaughan, Parliamentary Secretary to the Minister of Families, Children, and Social Development, provided the opening address.The seminar was co-hosted by Brock University and the University of Guelph and funded in part by the Social Sciences and Humanities Research Council of Canada (SSHRC).  Key topics addressed included:

How parental leaves fit with other care policies.
Policy designs that maximize equality and impact.
Measuring and assessing broad social impacts and progress towards gender and social equality.

Key speakers and presentations included:

Marian Baird (University of Sydney Business School, Australia), who was recently named one of the 100 most influential people in gender policy around the world.
Experts from 22 countries spoke about their national parental leave policies.
A team from the World Bank shared a new report and presented a paper entitled Women, Business and the Law: Comparing leave policies across 189 economies.
The Better Life Lab and Slate magazine of U.S. think tank New America, presented Paid Family Leave: How Much Time is Enough?
Presentations can be accessed here: https://www.leavenetwork.org/annual-seminar/presentations/

2.  Ecological Thinking:
I am delighted to be co-editor (with Nancy Arden McHugh) of a forthcoming collection on the work of feminist philosopher Lorraine  Code and the multiple and rich ways that her ecological thinking approach is being taken up in interdisciplinary ways in multiple research projects. The book is tentatively entitled Lorraine Code: Thinking Responsibly, Thinking Ecologically (State University of New York Press [SUNY], forthcoming 2021 )
3. Recent events:
I'm pleased to share news from events that I helped to bring to Brock University in 2015-2016:
The 33rd Annual Qualitative Analysis Conference: Visual methodologies and Visual Ethnographies was held at Brock University, May 11-13, 2016.
October 15-16, 2015: I co-hosted (with postdoctoral fellows Robyn Lee, Lindsey McKay, and Alana Cattapan), the Consuming Intimacies Symposium at Brock University, which was funded by the Brock Social Justice Research Institute and Brock University internal research funds. We have just completed a special issue of Studies in Social Justice. You can find the special issue here: https://brock.scholarsportal.info/journals/SSJ/issue/view/88
To connect with me: andreadoucet@mac.com [or] adoucet@brocku.ca [or] @andreadoucet (Twitter).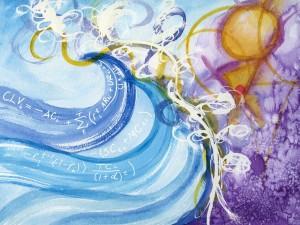 Painting by Christine Martell (When Science and Art Dance).